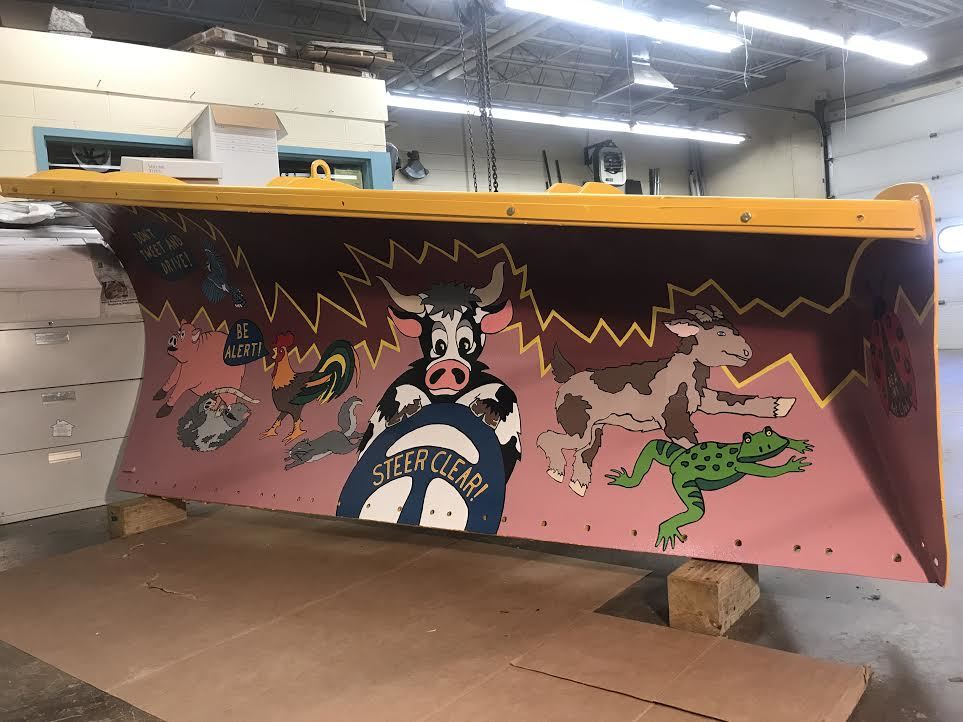 Students participate in Paint the Plow Competition
Brit Milazzo
Friday, December 08, 2017
Bald Eagle Area Middle and High School art teacher Rosemarie Cox said her students never cease to amaze her.
After all, in about three weeks, eight students from the high school's art club finished painting a snow plow for the second annual Paint the Plow Contest through the state Department of Transportation. All that, Cox said, happened in their downtime. In total, it took them more than 30 hours to complete.
"It just shows me how willing, capable and committed they are to go out and try something new," she said. "They never cease to amaze me."
In return, PennDOT is holding a set of voting options for the public to log onto Facebook and "like" their favorite artwork in the photo album, "Paint the Plow – Centre, Clearfield, Juniata."
Voting lasts until noon Friday, Nov. 3.
PennDOT District 2 spokeswoman Marla Fannin said the photo with the most likes will be named "Fan Favorite." Six schools from three counties participated this year. They are: Harmony, Clearfield, Bald Eagle, Bellefonte, St. Joseph Catholic Academy and East Juniata high schools.
Cox said a representative from PennDOT contacted the BEA art department in April inquiring about participation in this year's competition. By Mid-September, a plow was delivered to the school and the students created an animal-themed painting.
"They've done a number of community art projects, but not a competition like this," Cox said.
The plows will be mounted to a truck in the areas of the respective school districts for the upcoming winter season, Fannin said.
To vote, visit PennDOT's Facebook photo album, and "like" your favorite painting: https://www.facebook.com/pg/PennsylvaniaDepartmentofTransportation/photos/?tab=album&album_id=1959972907353510
PennDOT will additionally hold a media event 10 a.m. Wednesday Nov. 8 at the winning school.