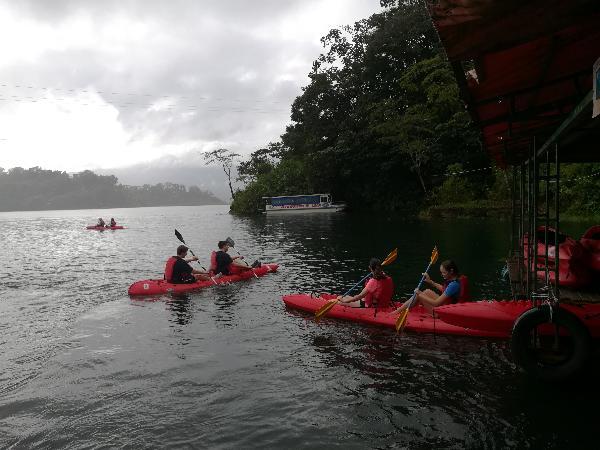 Costa Rica trip filled with adventure
Brit Milazzo
Friday, January 12, 2018
BEA World Travelers successfully completed its first international trip. Seventeen travelers, led by Spanish teacher Angela Smith, spent time from Dec. 27 to Jan. 6 in Costa Rica.
"The host nation … offered a kaleidoscope of terrain and culture that our students could explore," Smith said. "The adventurers kayaked one of the largest artificial lakes of Central America; zip-lined through the jungle canopy near the City of Clouds, Monteverde; played on the beaches of one of their best-known national parks, Manuel Antonio; and floated down the crocodile-infested river of Tarcoles in a boat."
They also spent time in Esperanza, a small community that was devastated in October by mudslides that blocked off the city for days from the rest of the world.
According to Smith, the community has a one-room schoolhouse to educate students in kindergarten through six grades, but were not yet able to use the facility due to changes in geography caused by the mudslides. BEA travelers and their families donated school supplies that were presented to the principal and families who could attend.
The principal, Smith said, explained that the donations would supply students with notebooks and pencils for the entire following school year.
"Our hearts were forever touched as we drove away, waving back to the children yelling, 'Bye, bye'," Smith said. "Each stop, each tour, each conversation of the 11-day trip offered first-time opportunities to our travelers. Whether it was flying in an airplane, whitewater rafting, trying new food, missing home, or managing the stress of flight cancellations and delays, each individual faced challenges that were overcome to end in an extraordinary tale filled with humor, adventure and life lessons."
For more information about how to help sponsor opportunities, contact Smith at angela.smith@beasd.net.
*Smith contributed to this report