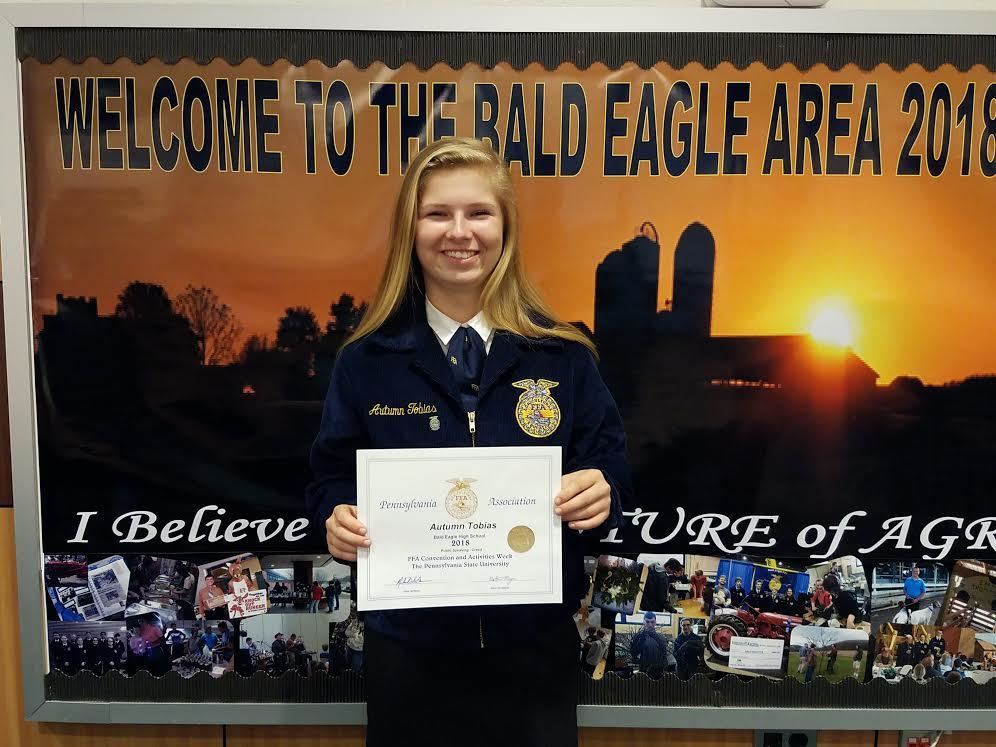 BEA FFA one of state, nation's best chapters
Brit Milazzo
Friday, June 22, 2018
The BEA FFA program shined at the Pennsylvania FFA State conference held June 12-14 at Penn State. Ag teacher and FFA adviser Todd Biddle said, "while our involvement was not as large as some chapters, we have some bragging rights."
"I am blessed to advise a team with so many wonderful students, parents, faculty, staff, advisory committee members, school board members and administrators who have worked very hard to provide (and) support the opportunities that allow our chapter to earn this kind of recognition," Biddle said.
Accomplishments:
-Autumn Tobias (pictured above) placed 11th in creed an earned a gold medal;
-Mason Finocchio received his state proficiency award for his Home and Community Development project. He also submitted his application for national judging – the results will be released later this summer;
-Rep. Glenn Thompson (R-Howard Township) received his honorary degree based on BEA's nomination;
-Weldon Equipment received the citation award based on a nomination from BEA;
-The BEA FFA chapter scrapbook, crafted by Samantha Trigg, placed sixth of 35, and earned a gold medal.
Biddle said FFA members also applied for the National Chapter competition, which looks at how well-rounded each FFA chapter is and what opportunities are offered to students. In 2017, BEA FFA was ranked eighth, and in 2016 and 2015 they were ninth. In 2018, BEA FFA was ranked second.
"When the secretary of agriculture (Russell Redding) visited our school in February, his closing words were, 'Bald Eagle has an exemplary agriculture program'," Biddle said. "The documentation of our chapter activities in this application backs his words up."