BEA annual Veterans Day celebration
Brit Milazzo
Friday, November 09, 2018
More than 195 guests and a school district full of students packed the gymnasium at Bald Eagle Area High School on Nov. 9 for the district's annual Veterans Day celebration. In its sixth year, the event aims to honor local veterans and members of the military for their service. It's also a way to help educate students about the importance of recognizing those who served.
The event began with a welcome speech from Principal Jack Tobias, along with a parade of colors from the American Legion of Clarence, the Pledge of Allegiance, the Star-Spangled Banner performed by the symphonic band and a presidential proclamation read by student Madison Eckley. Two veterans were also winners of a fishing trip to Raystown Lake through Angry Musky Outfitters.
Catered by the food service department, a lunch was also held for veterans and a guest.
This year, Capt. Aaron Irvin was the guest speaker. Irvin, a Marine, graduated from BEA in 2003 and recently moved back to the area with his family.
"There is no other way you can thank a veteran for giving you the freedom that you have, than being a good person," he said. "I challenge every one of you here to be of service to this county, and that means by being a good person starting at a young age."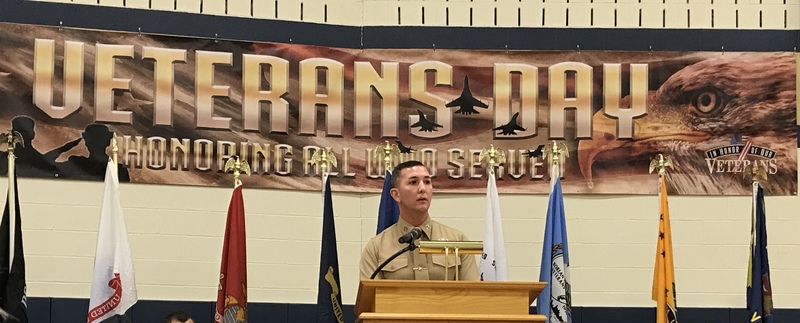 The Veterans Day celebration was established about six years ago – spearheaded by teacher Annette Threeton with inspiration from her twin brother who served in the military. Individual schools within the district held its own celebrations, however last year, administration decided to make the event districtwide, with the entire student body meeting at the high school.
"It's a great opportunity for the school district to give back to veterans and recognize them," Tobias said. "To be honest, it's probably not enough."
A goal this year for the Bald Eagle Area School District was to also double the number of veteran graduates they honor on its photo board. The photo board has about 260 pictures. Threeton said they have also compiled a list of 939 BEA graduates who have served or are currently serving in the military.