Junior QB has connection to last BEA football team that won districts 30 years ago
Brit Milazzo
Monday, December 17, 2018
On Nov. 9, 2018, the Bald Eagle Area football team brought home the District 6 title for the first time in 30 years. It was with a 21-16 win against Forest Hills and played at Mansion Park Stadium in Altoona. The team was led by junior quarterback Jaden Jones who wears No. 12.
Rewind to Nov. 26, 1988 and it was a similar story. On this date, BEA beat Somerset at the district championship game played in Tyrone. The team was led by now Bald Eagle Area Middle School social studies teacher Dave Jones who was then also a junior quarterback who wore No. 12.
You may see a plethora of similarities among the two people mentioned: year, position, jersey number and last name. That's because Jaden Jones is the son of Dave Jones, and wears No. 12 because of his father – a number his older brothers also wore when they played football at Bald Eagle.
"It's kind of cool that he played on the last team that won (districts)," Jaden Jones said. "I'm just glad we could finally do it again. It was a great accomplishment. We weren't used to playing that long, but we did a good job and it was fun to keep winning."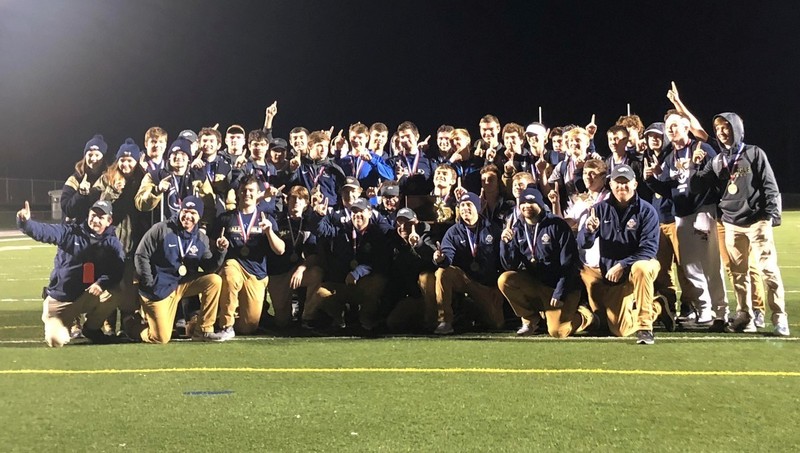 The Eagles then lost in the second round of state playoffs, 28-7, against the Sharon Tigers. The 1988 team didn't win states either, due to a point system that kept them out of playoffs.
"I remembering practicing on a cold Thanksgiving morning and we played that weekend," Dave Jones said about the 1988 district championship game. "Playoffs were new back then so it didn't quite have the same impact it does now, but it certainly felt good to win the (school's) first title."
Jaden Jones broke numerous team and individual records this year including total passing yards in a season, with 2,966; total passing yards in a game, with 487 against Troy; and total touchdown passes in a season, with 31. He also matched his father's 99-yard touchdown pass in the first game of the season – something they both laugh about.
"My throw was a little dump-off pass; his was like 50 yards," Dave Jones said. "It was much more impressive!"
And while the 30-year championship drought was "motivation" for the 2018 team, Jaden Jones said he hopes to keep up the momentum going into next season.
"We talked a little bit about how it's been so long (since winning a district championship) – that was a little bit of motivation, but we hope to get back (next year) to where we were in district finals and work hard through the season," he said.