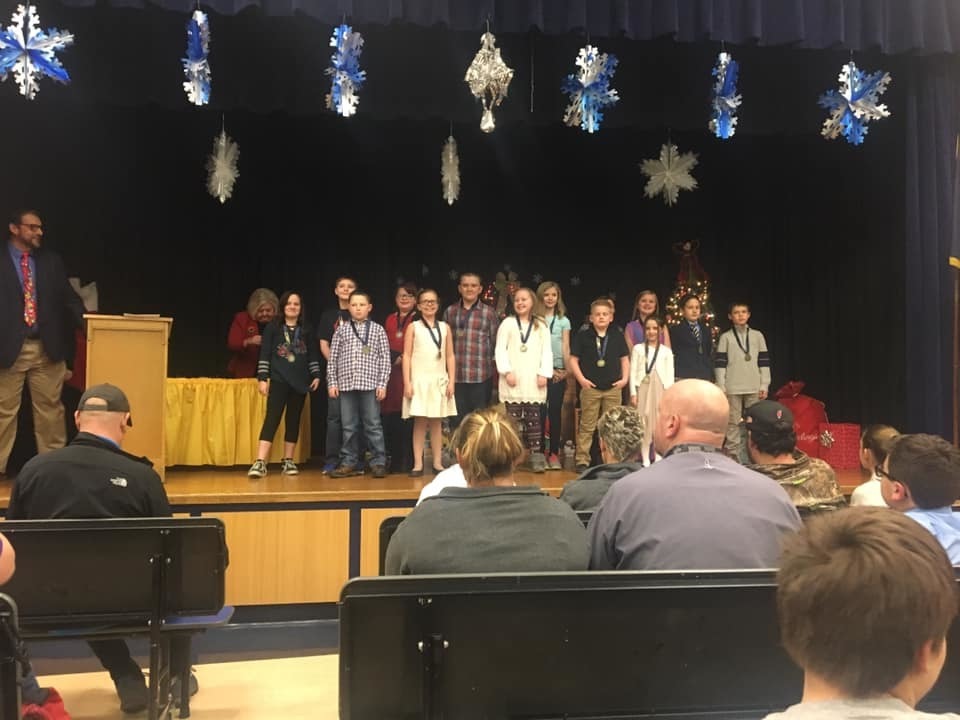 Students honored for excelling on PSSA exams
Brit Milazzo
Thursday, December 20, 2018
A ceremony was held the night of Dec. 13 at the Wingate Elementary School cafeteria to honor elementary school students who ranked in the top 10 percent of those who took the PSSA exams – Pennsylvania System of School Assessments. In total, 64 awards were handed out – five from Howard; 19 from Mountaintop Area; 15 at Port Matilda; and 25 from Wingate.
"You guys should be extremely proud because this test is not easy," Wingate Elementary School Principal Jim Orichosky said during the event.
Middle school students were also honored after the new year for their success on the PSSA exams. Photos are provided below.
Grade 4 ELA
Casey Angellotti
Henry Bacon
Alyna Basalla
Grady Boone
Hannah Briner
Leah Bryan
Isaac Bulles
Kaden Clark
Jocelyn Holt
Hayden Johnson
Gabriella Lucas
Abigail McCloskey
Michaela Turner
Izaac Watkins

Grade 4 Math
Casey Angellotti
Henry Bacon
Grady Boone
Isaac Bulles
Kaden Clark
Bradley Confer
Wade Habovick
Jocelyn Holt
Kaleb Irion
Liam Purcell
Tristen Rice
Michaela Turner
Izaac Watkins

Grade 4 Science
Henry Bacon
Alyna Basalla
Grady Boone
Leah Bryan
Isaac Bulles
Kaden Clark
Bradley Confer
Hayden Johnson
Destiny Orner
Tristen Rice
Michaela Turner
Kyle Watson

Grade 3 ELA
Savanna Albright
Ethan Davis
Sage Fisher
Steven Flick
Kendall Gavlock
Shaylin Harter
Haddi Heverly
Luke Hosband
Garrett Johnson
Justin Johnson
Maddison Lykens
Isaac Meyer
Eden Parker
Sarah Yearick

Grade 3 Math
Zoe Coleman
James Cowan
Sage Fisher
Steven Flick
Kendall Gavlock
Haddi Heverly
Luke Hosband
Garrett Johnson
Justin Johnson
Anthony Sirianni
Sarah Yearick