About Us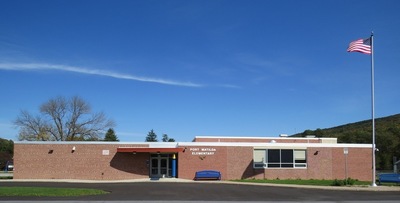 The Port Matilda Elementary School is the third largest of the four elementary schools in the Bald Eagle Area School District and houses approximately 125 students, 10 teaching staff, and 10 support and kitchen staff. The educational program includes classrooms from kindergarten through fifth grade. You will find a comprehensive curriculum for all students, which includes the areas of Reading, Writing, Speaking, Listening, Mathematics, Social Studies, Science and Health. The itinerant staff are specialists in the areas of Physical Education, Art and Music; they provide forty-five minutes of instruction to the students during each six-day-cycle of the schedule. In grades Four through Five the students may receive instrumental lessons.
Port Matilda Elementary School has two mobile laptop computer carts. Our classrooms have computer stations in each room. Each classroom uses current up-to-date technology including Ipads, Apple TV, and Doceri; we have a Promethean board housed in the library for teachers to use with their classes, whenever possible. The library has a computerized retrieval system and uses technology for reference searches. An itinerant librarian visits the school to provide instruction in library skills. The Scholastic Reading Counts program is now part of our library system.
A Title 1 reading program and Math Intervention program are available in our school, along with a Gifted Educational Program. These programs are offered to students that meet the criteria set by the school district and the state.
The elementary school benefits from an active Parent Teacher Organization. The group provides a multitude of services for students and teachers, as well as supports the many educational programs within the school. Many other groups utilize the school facilities during the evenings, providing activities for children in the community. The school regularly supports the local community with a variety of events. We do a fall and spring food drive with donations divided up between the two local food banks in the area. We walk to the community park in the spring and fall giving parents, grandparents, and family members the opportunity to join us for the day of food and fun.
Port Matilda Elementary has earned banner status the past five years in the area of School Wide Positive Behavior. Students are rewarded for good behavior choices daily, and each month celebrate their achievements with a school wide reward. Our school motto, Be Kind, Be Respectful, Be Responsible, Be the Best You Can Be, has helped our students bring positive behavior not only into the classrooms, but into their daily lives outside of our school setting.