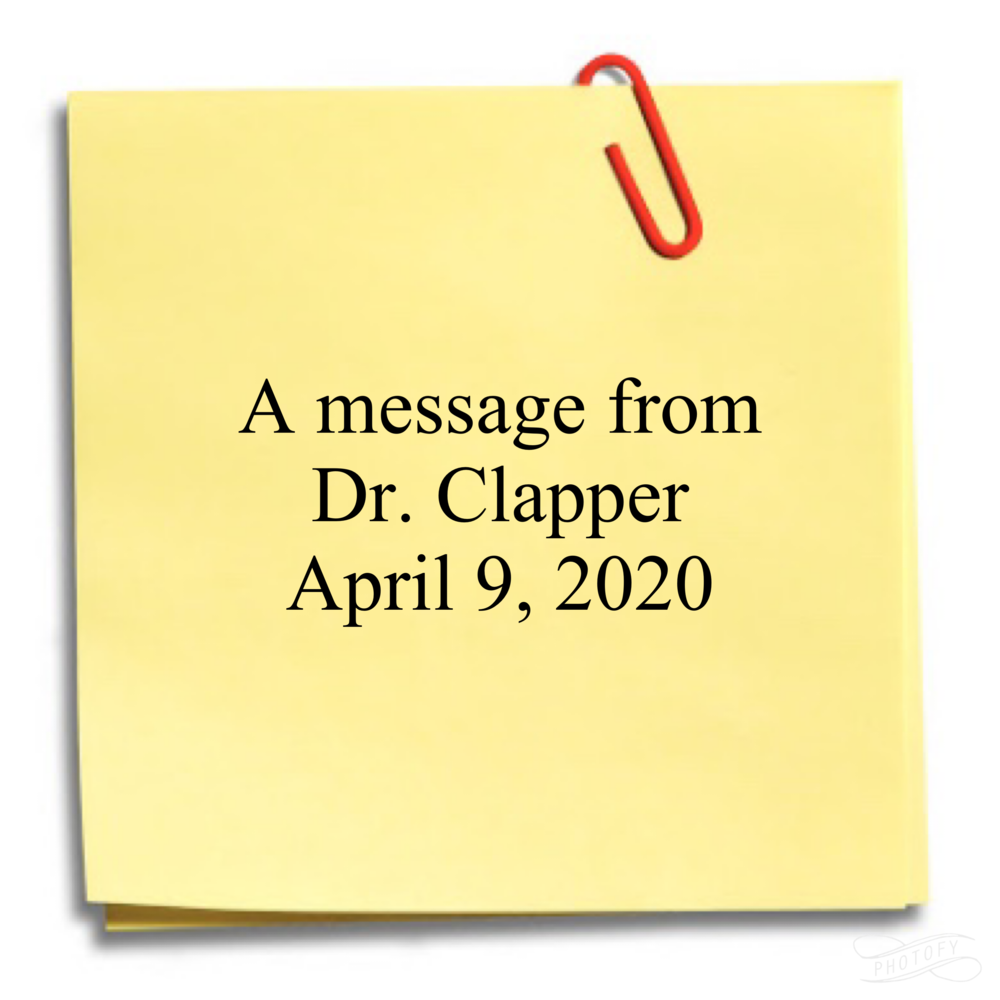 A message from Dr. Clapper. April 9,2020
Laurie Hall
Thursday, April 09, 2020
April 9, 2020
Today Gov. Tom Wolf announced that all schools in Pennsylvania will be closed for the remainder of the 2019-2020 school year. All school buildings and grounds are closed, and all school activities are cancelled for the remainder of the academic year. Additionally, the PIAA announced earlier today that all spring sports activities/games are cancelled.
As a part of the Governor's announcement, it was noted that schools will be closed for the remainder of the year as defined by the local school calendar. The 2019-20 Bald Eagle Area School District calendar identifies June 5 as the final day of the academic year.
The District will maintain its Continuity of Education plans for the duration of the closure of our school buildings. We ask all students sustain their participation in all learning activities that are provided by teachers for the remainder of the academic year. Should there be any questions regarding any assignment or activity, be sure to contact the appropriate teacher.
While this is not how our graduating seniors anticipated their final semester at Bald Eagle Area, be assured that we are determined to do everything within our ability to recognize and celebrate these students -- as they so richly deserve -- most especially a graduation ceremony. The high school leadership team will be reaching out to seniors and their families regarding graduation planning. Any specific plans will be communicated directly with seniors and their families as soon as they are finalized. Please keep in mind that any graduation ceremony plans will be contingent on public health guidance provided by the Secretary of Health and stay-at-home orders issued by the Governor.
We recognize that the last several weeks have impacted families in many different ways. We appreciate your resilience and are thankful for your continued support and confidence in the school district. All of us care very deeply about the students and Bald Eagle families. The faculty, administration, and staff look forward to the days when everyone will be reunited in-person. We believe that we will be a stronger school district and community as a result of these times.
Stay Safe. Stay Healthy.
Sincerely yours,
Dr. Joseph H. Clapper, Interim Superintendent
Bald Eagle Area School District
AN EQUAL OPPORTUNITY EMPLOYER